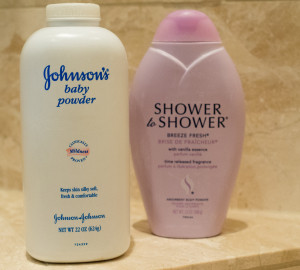 Talc is a naturally occurring mineral that is one of the primary ingredients in products like Johnson & Johnson's Baby Powder and Shower-to-Shower body powder.  Manufacturers of products containing talc have promoted these products for decades, claiming that talcum powder eliminates friction, is gentle on the skin, and provides a fresh scent.  They created ads with smiling, bare-bottomed babies, promoting the use of baby powder to reduce diaper rash, and other ads, promoting the use of talcum powder by women as a personal hygiene product.  However, a large number of studies published in scientific and medical journals concluded that the use of talcum powder in the genital area increases a woman's risk of developing ovarian cancer.  This alarming information has been known by the manufacturers of products for many years, but the manufacturers chose not to put warnings on their products or in their ads.
Talc is a mineral that shares some similarities with asbestos, another mineral that causes deadly cancers.  Just as asbestos fibers were found in the lungs of workers who breathed them, talc particles have been found in the ovaries of women who used baby powder containing talc in the vaginal area and developed ovarian cancer.  When baby powder containing talc is applied to the genital area, talc particles can move up the vagina, into the fallopian tubes, and into the ovaries, where the talc particles can remain for decades.  Scientific studies have shown that talc causes inflammation in healthy tissue.  This inflammation may, in turn, contribute to the development of cancer.
Dr. Daniel Cramer is a gynecologic oncologist and Harvard Medical School professor.  In 1982, Dr. Cramer published the first study that linked talcum powder use in a woman's genital area with an increased risk of ovarian cancer.  In a recent interview, Dr. Cramer said "I have always advised gynecologists that if they examine a woman and see that she is using talc in the vaginal area, tell her to stop."  The association between talcum powder use and ovarian cancer was the subject of numerous epidemiological studies published throughout the 1980s and 1990s, which reinforced Dr. Cramer's findings.  As early as 1992, manufacturers were urged to put warning labels on talcum powder products because of this serious health threat to women.
In 2003, scientists analyzed 16 of the studies that had been done linking baby powder containing talc to ovarian cancer.  They found that women using baby powder containing talc were 33% more likely to develop ovarian cancer.  Dr. Margaret Gates, a Harvard epidemiologist, and other scientists published a study in 2010 entitled "Perineal Use of Talcum Powder and Endometrial Cancer Risk."  They found that perineal talcum powder use increased the risk of endometrial cancer, especially among post-menopausal women.  More recently, a 2013 Cancer Prevention Research article analyzed 8,525 cases of ovarian cancer.  That study concluded that genital talcum powder use was associated with an increased risk of ovarian cancer relative to women who had never used talcum powder.
Lawsuits have been filed against Johnson & Johnson on behalf of women who developed ovarian cancer after long-term, frequent use of baby powder containing talc.  These lawsuits allege that Johnson & Johnson promoted its Baby Powder as being "safe, gentle and mild," despite knowing for decades that its product posed an increased risk of ovarian cancer among women who used it on their genital area.
If you, a loved one, or someone you know has been diagnosed with ovarian cancer after frequent use of baby powder containing talc, you may be entitled to compensation.  Contact the defective product attorneys at Suthers & Harper, www.sutherslaw.com, or call toll free 1-800-320-2384 for a free consultation.