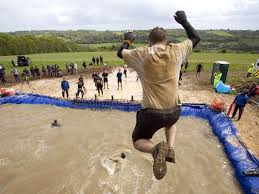 Running events have steadily increased in popularity over the past decade. A runner looking to compete in a race never has to look very far from their own home to find a 5k, 10k, or marathon to participate in. Last year millions competed in traditional road races, but nearly 4 million racers finished what are known as non-traditional obstacle races. Non-traditional races such as Tough Mudder, Spartan Race, and Warrior Dash are extreme fitness events, exploding in popularity, that involve the traversal of obstacle courses filled with military-style obstacles.
Though these races have been unquestionably successful and extremely popular over the past several years, many believe there is a real cause for concern. Dr. Alex Diamond, a sports medicine expert at Vanderbilt University says that many of these obstacles in non-traditional races are just inherently dangerous, and therefore lead to serious injuries. "They're literally jumping over fire, into rock pits, diving head-first into ponds." Moreover, Diamond says the problem is that these races have no governing body to determine which obstacles go too far, which is obviously a cause for concern.
Many participants may feel because of the overwhelming popularity of these events they must be safe, however that has proven to be far from the truth. Below are just few examples of serious injuries that have occurred over the last several years in these races:
• Emergency room doctors in Allentown, Pennsylvania, saw a Tough Mudder racer who received 13 electric shocks on the course causing inflammation in his heart. Another competitor had a stroke, causing temporary paralysis.
• Twenty-two people who participated in a Nevada obstacle race last October came down with Campylobacter coli infections ascribed to accidentally ingesting surface water in the mud pit, according to a new report from the U.S. Centers of Disease Control and Prevention.
• A mysterious skin condition dubbed "Spartan Rash" has been reported in Spartan Race participants plagued by red, itchy skin.
Just this month, a Maryland woman whose son tragically drowned last year along an obstacle course in West Virginia has filed a wrongful death lawsuit against the organizers of the Tough Mudder event. Avishek Sengupta, 28, drowned after another racer jumped into the water on top of him, his family claimed in a wrongful lawsuit filed last week. The injury occurred on an obstacle called "Walk the Plank." The obstacle involves climbing up a wooden wall to a platform, then jumping 15 feet into a water pit. Sengupta was in the water for more than eight minutes before a rescue diver pulled him out. At the time, Tough Mudder said the event "was staffed with more than 75 ALS, EMT, paramedics, water rescue technicians and emergency personnel," and that Sangupta's was "the first fatality in the three-year history of the company." However, the complaint reveals that the scuba diver hired by organizers of the event to man "Walk the Plank" on the day Sengupta drowned had expired rescue diver credentials at the time of the incident.
Unfortunately, there appears to be little one can do to avoid injuries in one of these extreme obstacle races, other than avoid them altogether. A study published in Annals of Emergency Medicine on the safety of these races stated, "Unlike traditional marathon training, where the training enhances race-day performance and preparedness, obstacle races are nearly impossible to train for." There's really not much a participant can do to "prevent injury in an event in which obstacles include having to jump off a 9-foot height or run through a field of electrical wires (while the participant is wet and hot)," they write.
As attorneys who represent victims involved in catastrophic injuries, we can only hope that these types of races implement better safety protocols, rescue measures, and consider scaling back the danger of the obstacles in these events to avoid similar tragedies in the future.