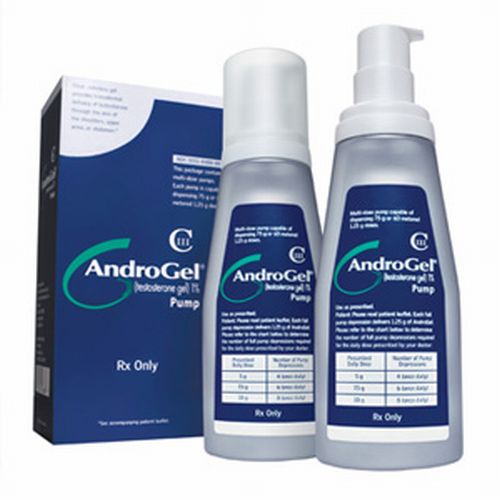 AndroGel testosterone gel is a topical testosterone replacement therapy (TRT) manufactured by AbbVie, Inc. and formerly Unimed Pharmaceuticals of Abbott Laboratories, Inc. AndroGel is approved by the Food and Drug Administration (FDA) to treat men with low testosterone or "Low T," associated with a diagnosed medical condition. AndroGel 1% and AndroGel 1.62%, are both applied topically to the skin. Patients apply it directly to their upper arm and shoulder and it is absorbed through the skin to deliver testosterone to the patient for approximately 24 hours. The drug has been heavily prescribed over the past several years as a safe way to treat men with low testosterone. However, numerous recent studies suggest that men taking AndroGel have a far greater risk of suffering a heart attack, stroke, congestive heart failure, or other adverse cardiovascular problem. The most recent study, known as the PLOS ONE study, performed on January 29, 2014, found that men 65 years and older who took testosterone injections or used the gel, had double the risk of a heart attack in the months after starting the treatment. On Jan. 31, 2014, after reviewing these studies, the FDA announced it would be investigating the risks of heart attack, stroke and death in men using prescription testosterone products.
On May 29, 2014, an order was issued that established a federal testosterone multidistrict litigation (MDL) before U.S. District Judge Matthew F. Kennelly in the Northern District of Illinois. The purpose of creating an MDL is to facilitate faster progression of a large number of lawsuits that have certain allegations of fact in common. An MDL is designed to eliminate inconsistent court rulings among these cases, as well as expensive and unnecessary duplication of discovery. All of the lawsuits that were transferred to the Northern District of Illinois allege that drugs such as AndroGel, AndroDerm, Axiron, Foresta, Testim and others caused serious, and sometimes fatal, cardiovascular problems in men. According to the June 6 Order, Plaintiffs predict the number of lawsuits associated with testosterone therapy side effects could eventually be in the thousands. (June 6, 2014 Order).
Suthers & Harper is currently investing claims on behalf of individuals who used AndroGel or other testosterone therapies and suffered heart attacks, strokes or other serious medical complications. Other testosterone therapies that have been associated with cardiovascular complications include Bio-T Gel, Delatestryl, Depo-Testosterone, Striant and Testopel.
If you or loved one has experienced a heart attack, stroke, congestive heart failure, or other adverse cardiovascular problem after using one of the products listed above, contact the experienced product liability attorneys at Suthers & Harper online or call us on our toll free number, 1-800-320-2384, to set up a FREE consultation.