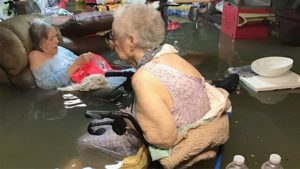 As anyone who lives in the coastal area of the southern United States knows, we have dealt with several major hurricane evacuations over the last couple of years that have forced residents out of their homes.  While these evacuations can be an ordeal for anyone, it is especially challenging to evacuate those vulnerable citizens who are residents of nursing homes and other assisted living facilities.  Though with proper planning, nursing homes can and should have a plan that protects their residents in the event of a mandatory hurricane evacuation.
Sadly, we saw a lack of preparation by nursing homes time and time again during the coverage of the major hurricanes of 2017.  For instance, ten elderly nursing home residents in Hollywood, Florida died after being kept inside a facility that essentially turned into an oven when Hurricane Irma knocked out the facility's air conditioning for three days.  These residents were left inside the building, despite the fact there was a hospital with working electricity just across the street.
There were also horrifying images out of Texas during Hurricane Harvey that showed nursing home residents sitting in several feet of unsanitary flood water.  Luckily in the Texas case, the residents ultimately had a (somewhat) happy ending, as all 18 of those affected by the flood water were airlifted from the flooded La Vita Bella assisted living facility in Dickinson, Texas, and subsequently relocated to other facilities across the state.  However, these residents should have never had to go through such a traumatic experience.